3 month training review for a half ironman triathlon while following a Polarized training model and low carb, high fat diet.
Instead of a standard race report, I thought a more interesting and insightful (albeit much longer!) read would be a review of my 3-month training cycle leading up to Indian Wells 70.3. I had a few goals and things I wanted to test out heading into this event: 
>Continue experimenting with a "Polarized Training Model" in my training
>Experiment with a lower carb, higher fat diet (LCHF)
>If all went well hopefully qualify for the 70.3 World Championships in New Zealand.
When the race was said and done, I finished with a 70.3 PR of 4hr 20min, 2nd place age group finish and slot to the World Champs, and most importantly a deeper understanding of Polarized Training and LCHF nutrition and it's application to racing the 70.3 distance. Below I'll dive into the details of what I did in training, what I learned, and what I would change in the future. 
I had a 3-month training block to prepare for Indian Wells, which started in early September. A fair base level of fitness was established earlier in the season with a decent performance at 70.3 St. George, with a finishing time of 4hr39min. I backed that up a couple months later with an enjoyable experience and finishing time of 9hr 55min at my first full distance triathlon event at Challenge Roth in Germany.
Indian Wells is positioned conveniently at the end of the season (December 7th), which for me is our slow time at the bike shop. This allowed me to increase my average training time from 9hrs per week (Jan-Aug) to 11hrs per week (Sept-Nov). Those two extra hours per week may not sound like much, but I've learned that I respond well to volume and any time I can sneak in more training time I should take advantage of it.
*Key thought: if you train <10hrs per week I highly recommend taking advantage of any opportunity to sneak in more aerobic training time.
I broke this 3-month training block into a nine week 'base' cycle and a four week 'build' cycle.
My training focus during the nine week base cycle was simple:
>Maintain consistency by following a standard weekly routine and exercise nearly every day.
>80% of my workouts will be "low intensity".
>20% of my workouts will be "high intensity".
You can see in the chart below the consistent weekly volume, gently pushing it up over nine weeks.  Very simple and classic stuff. My key sessions during this period of time were the long swim, bike, or run workouts, in which I wanted to finish them feeling "pleasantly tired", and never "completely spent".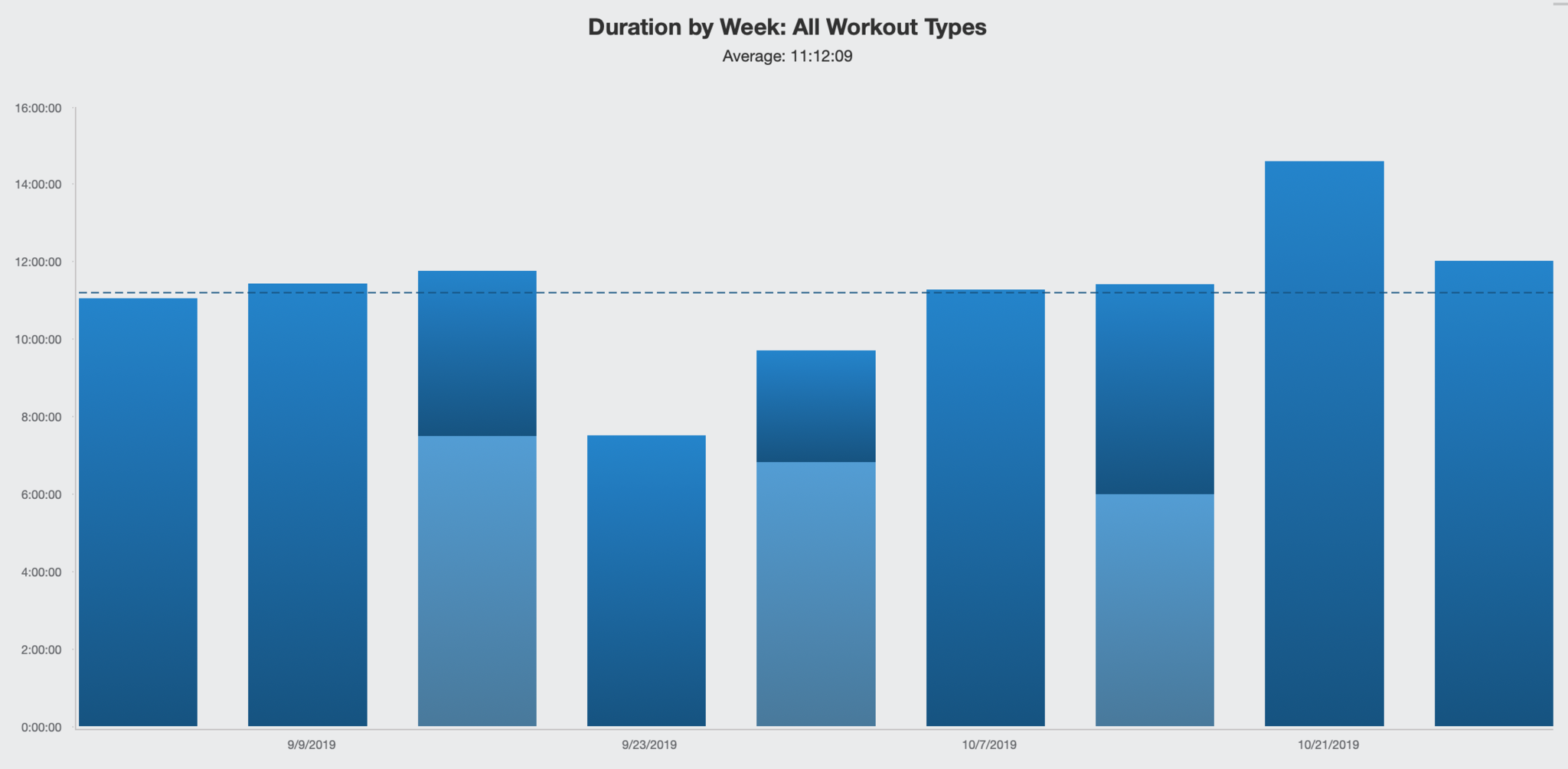 I used a simple 3 zone training intensity model to guide my training. These zones were determined by blood lactate threshold testing conducted at our shop:
>Zone 1: 'low intensity' includes all base building and recovery workouts (for me HR typically below 130 on the bike, and 140 on the run)
>Zone 2: 'mid intensity' includes tempo and sub-threshold (for me HR below 150 on the bike and 160 on the run)
>Zone 3: 'high intensity' include above-threshold racing and intervals.
The chart below shows the results of my blood lactate threshold test conducted on the bike in August, soon before starting the base training block. We look for key lactate levels as well as jumps in blood lactate to determine the 3 training zones: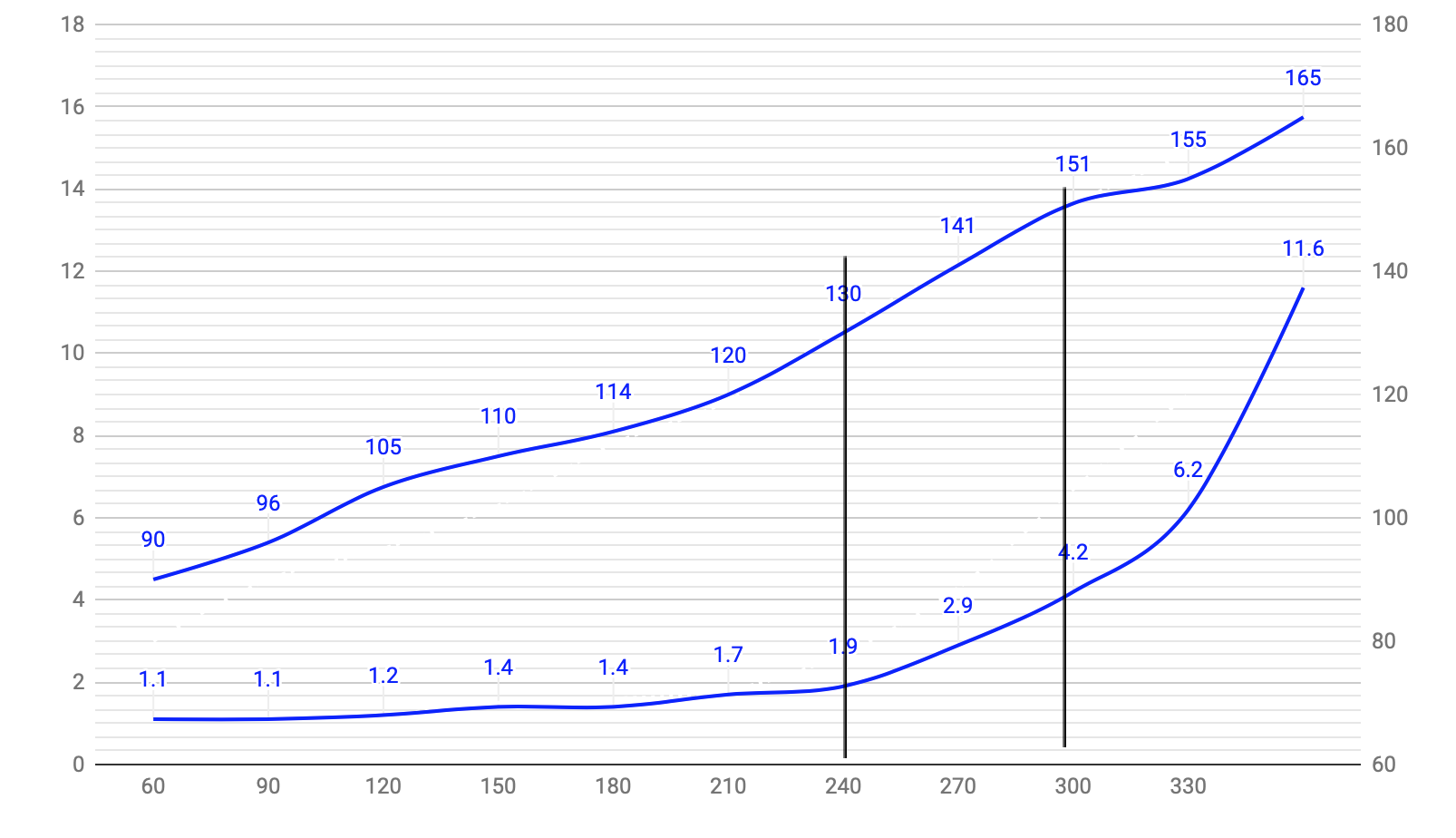 The chart below shows my time spent in these zones during the nine week base training cycle. I believe the disciple in keeping most of the effort in the 'low intensity' aerobic window allowed me to avoid illness and injury during this time.  I ultimately only missed four days of training during these nine weeks, and two of those days were due to travel. Most importantly, this was done without feeling burned out or overly fatigued while maintaining work and family responsibilities. 
And a different perspective of the same data: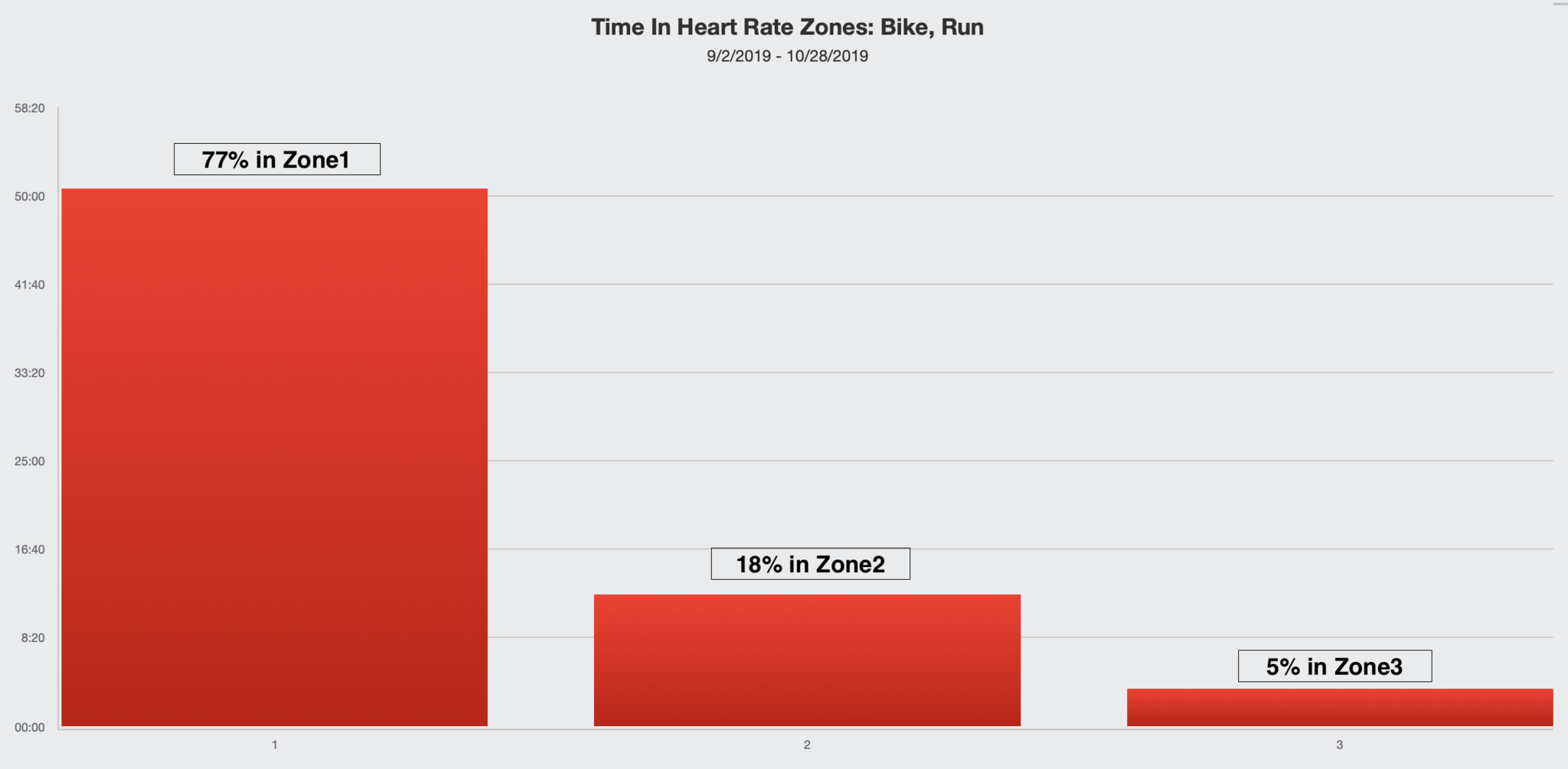 True advocates of the Polarized Training Model will say that I should spend less time in Zone2, and more in Zone3. But when looking at heart rate data you must consider that your heart rate will drift through Zone2 on its way to Zone3, effectively skewing the data in favor of time spent in Zone2. 
The final key component of this base building cycle was adjusting the macronutrient component of my diet. I typically have a relatively poor, carbohydrate (CHO) dependent diet. I took an online course and read as much as I could on the LCHF diet, and decided to give it a shot. My nutrition focus during this time was also simple:
>Record all my nutrition on MyFitnessPal
>Record my morning blood glucose levels
>Try to keep my CHO intake below 150g per day during the base building period.
As you can see from my body weight and waistline chart below (entire 2019 season), these three things resulted in some rather sudden and dramatic changes in my body composition. I lost 8lbs in a month and 2 inches off my waistline. During this time, my macronutrient breakdown was approximately 20% CHO, 50% fat, and 30% PRO. Also of interest, during the first 2/3 of the season I lost only 4lbs of weight and .5'' off my waist despite completing a 70.3 and full distance ironman. This further confirms in my mind that body composition has more to do with dietary choices than exercise.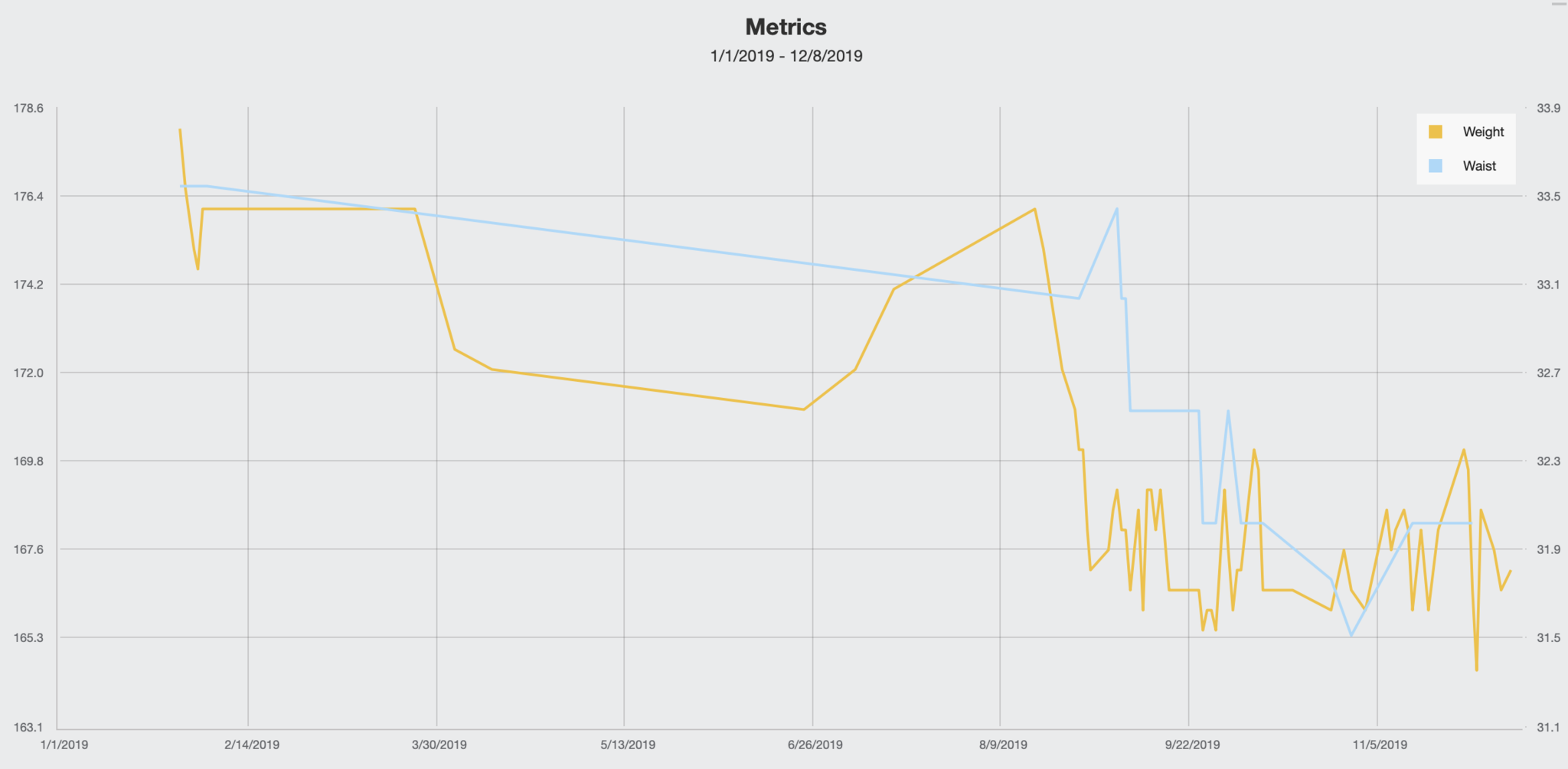 As interesting as this is, I do not believe the LCHF diet is the most important component of this change. Instead, the daily measuring and reflection on food choices naturally promotes better decision making. Like most people- I feel like I know what healthy eating is, I often just chose to ignore the wise decision in favor of the easy one.
Key thought: That which gets measured, gets managed. 
These dietary adjustments were combined with completing a much higher percentage of workouts in a near-fasted state. The application of that meant I would wake up, have some coffee with cream, then complete the workout. Any low-intensity workout below 60min would be completed fasted, and most long weekend rides would be completed with only water and electrolytes for the first 2-3hrs. I found the shorter workouts easy and actually more pleasant to do fasted, but some of the longer rides became emotional after a couple hours. By the end of the base cycle I was able to complete an 80 mile Zone1 ride on just water, electrolytes, and about 50g of CHO (an average rider may take in 50g per hour of CHO) without bonking. 
By this time I was feeling fit, but by no means race ready. It was time to do some more race-specific work.
The goal of the 4 week 'build' cycle was to prepare myself for the intensity and duration of a 70.3 race. This is also where my training began to differ slightly from the classic Polarized training model. I began spending more time in Zone2, albeit at the upper portion of it, which I refer to as 'Sweet Spot'. The chart below shows how my percentage of training time within the three zones changed during this final block: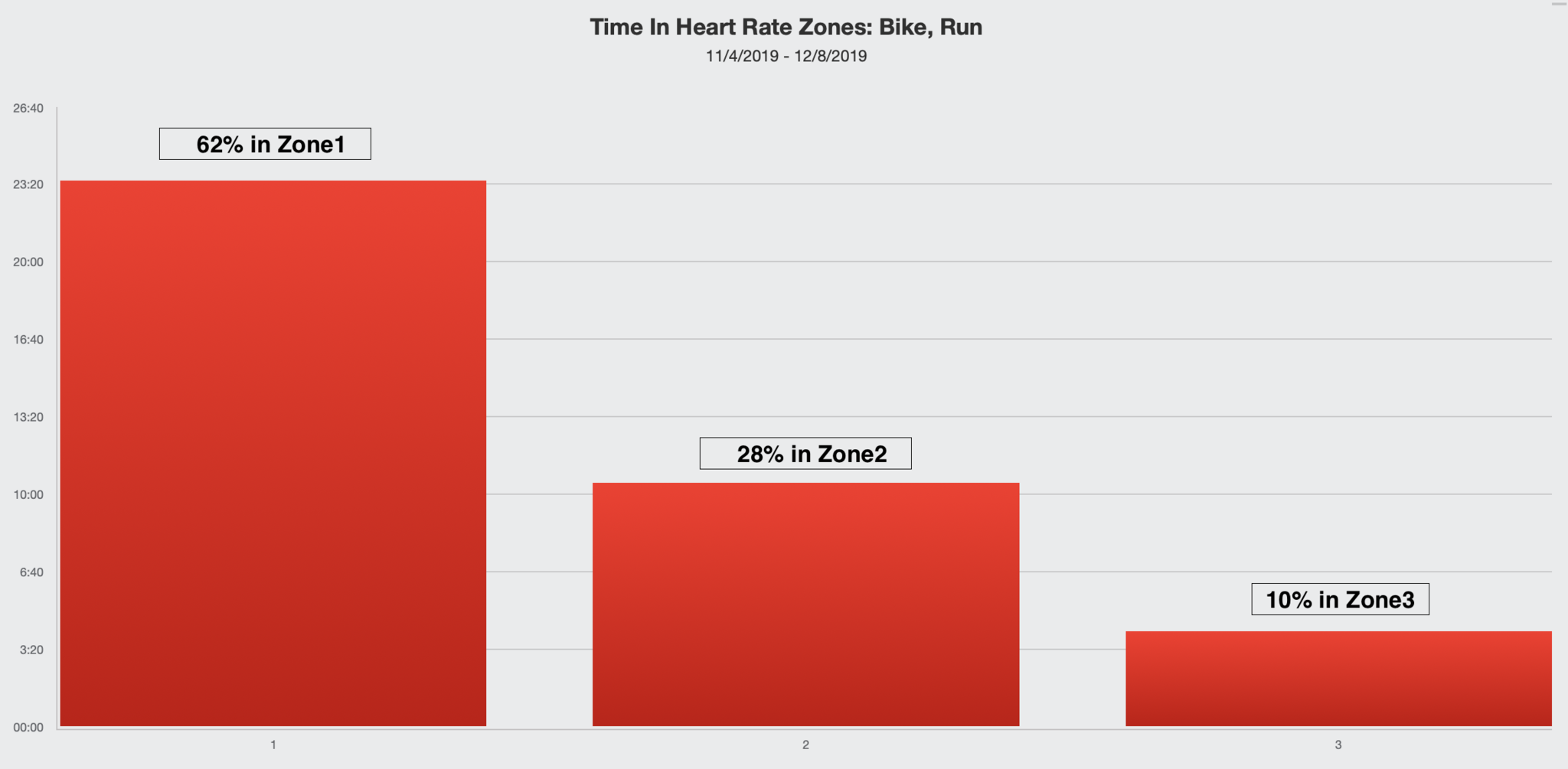 The increased percentage of time in Zone3 is due to the fact that while flirting with the upper end of Zone2, you will unavoidably spend some time in Zone3. Remember these zones are simple guidelines and ranges, and not something set in stone.
I combined this increase in training intensity with a gradual decrease in training volume as shown:
My general week structure remained the same during this period of time, but my mid-week Zone3 bike or run workouts became mid-week Zone2 'Sweet Spot' workouts.
Sweet Spot will be just above 70.3 race pace for most athletes, and is an ideal workout to test nutrition, equipment, and pacing. I mapped out a bike and run loop, both 30min in duration, that mimic the profile of the Indian Wells race course. For the bike that means flat and without stops, and for the run it meant a hilly golf course loop. I would complete multiple laps of these circuits at Sweet Spot intensity, gradually building up my tolerance for the workload. Below is an example of one of my key Sweet Spot bike workouts completed a few weeks before race day: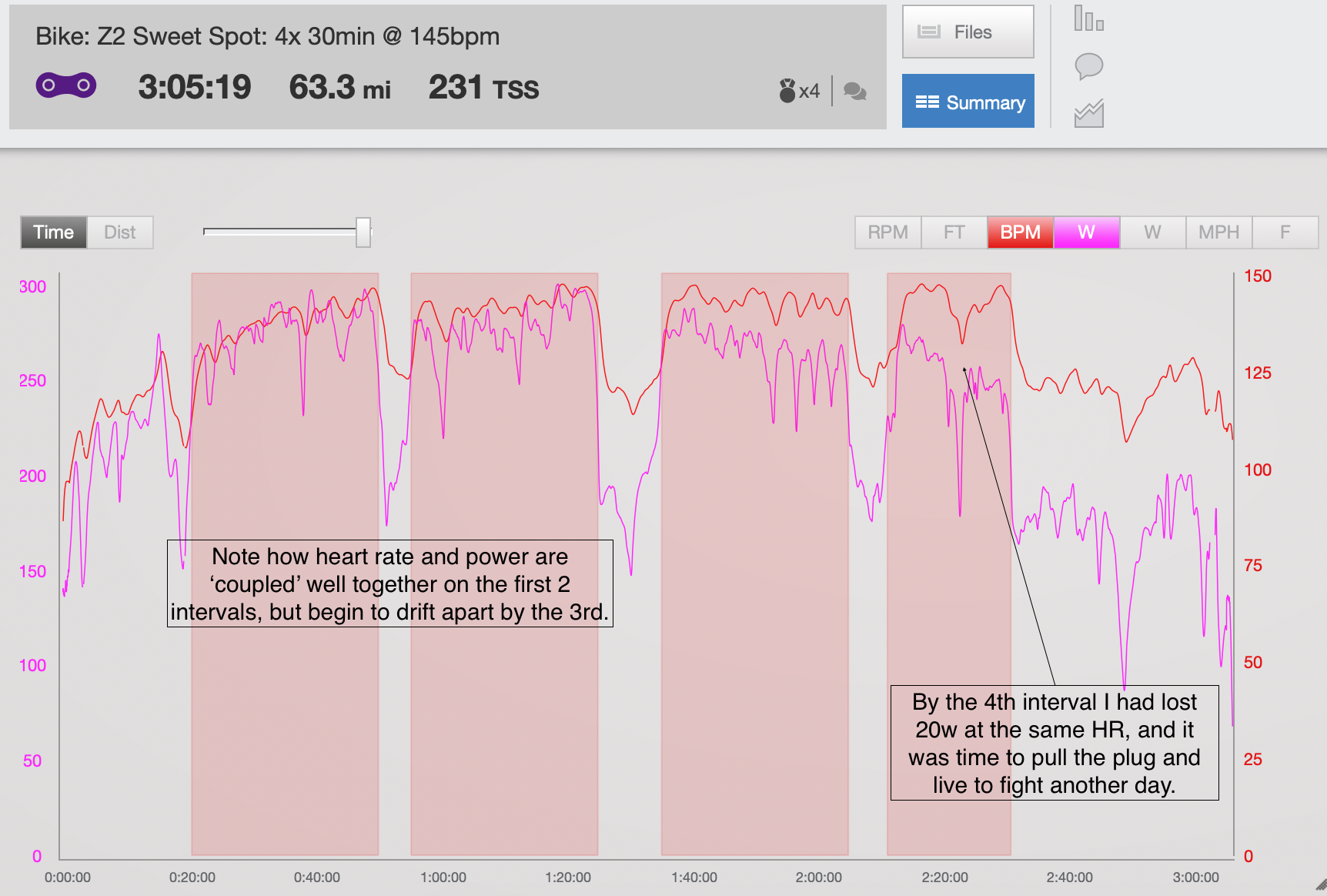 Key Thought: Use Sweet Spot intervals to refine race nutrition, pacing, and equipment.
The only other high intensity workouts I did during this time were a series of Maximum Aerobic Power (MAP) tests. A MAP test is a simple way to measure changes in cycling performance and estimate your VO2 max. I would complete an easy warmup, then starting at 100w increase the power 20w every 1 minute until failure. The results of the three tests are below. The final test I took the Tuesday before race day, and the good result combined with a season high heart rate showed I was fresh and ready to race.
| | | | |
| --- | --- | --- | --- |
| MAP TEST | 10/22/19 | 11/19/19 | 12/4/19 |
| High Power | 400 | 420 | 440 |
| Body Weight | 167 | 167 | 167 |
| Max HR | 171 | 170 | 178 |
| VO2 Max Estimate | 66.2 | 70.2 | 72.2 |
| FTP Estimate | 302 | 323 | 332 |
My race plan was simple and somewhat flexible:
>Swim at an intensity that feels like 80-85% of my best for the distance.
>On the bike, try to hold power in the middle of Zone2 (240-300w) depending upon how I feel. Do not let power go above 300w for extended periods of time. Take in 60g of CHO per hour, and hydrate based on feel- but at least 24oz/hr with 500mg of sodium.
>On the run try hold an even split, and as fatigue sets in focus on cadence and knee lift. Consume a caffeinated gel at mile 4 and mile 8, and take in water/coke based on feel at the aids stations.
The swim was cold, somewhat rough, and I exited the water in ~32min feeling like I swam well within my abilities without risking the later stages of my race. Time was about the same as St. George.
Onto the bike I was able to average 266w, a solid 10% improvement over St. George while racing 6lbs lighter in body weight. Combined with a flat course this put my time around 2hr 16min for the bike leg. I felt comfortable and in control the entire time while executing my nutrition/hydration plan without issue. I attribute the improvement on the bike to the disciplined aerobic development work and Sweet Spot interval workouts. An interesting note: near mile 45 of the bike I caught a group of age group men and pro female athletes. While riding with this group the last 10 miles of the race my power dropped 20w on average- a welcome reprieve before starting the run. I noticed after the race that my average speed also dropped almost 1 mph though. I would not have been able to drop this group if I had held my same power of 260-280w. But if better trained, a well timed 2-3min surge of 300-320w may have been enough to make a separation before falling back into my race-sustainable pace. This is something to work towards, and more a concern for elite racers, and a main challenge pro athletes must face in their event.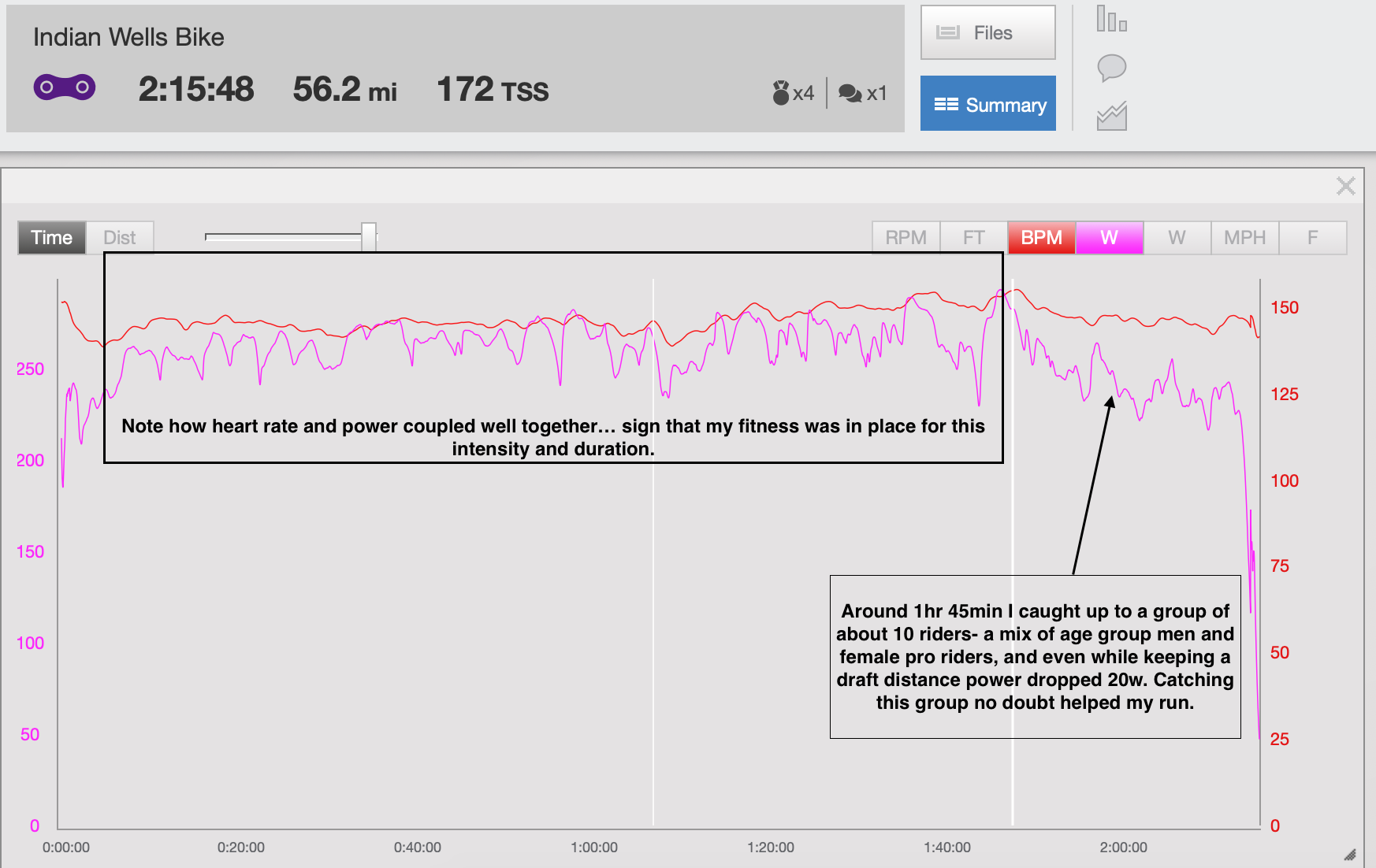 Onto the run: I was quite happy to see that my highest HR of the day came at the end of the run- something I have not always been able to do in long course races. This shows I did not go out ridiculously fast, I fueled/hydrated relatively well, and that I had the stamina to push it to the very end. If you don't have your highest HR at the end of your event, it may be a sign that something is off.
My run time of 1hr 27min was about 10min faster than St. George- though I suspect 5min of that is due to differences in the run course. The run file below shows how my pace fell off about 20sec per mile on lap two at Indian Wells. A sign that a faster run is possible, and something to improve upon in 2020. Some may say that I went out too fast, but I would disagree, a negative split run is not necessary in my opinion for long course racing, and may not be desirable as temperatures heat up later in the day. Nonetheless, it is always nice to limit the decrease in pace as much as possible.

And that's about it- another fun race in the bag. This was especially enjoyable because I feel I learned a fair number of good lessons along the way. To sum up the key lessons from this 3-month training block:
> Prove your consistency before increasing your volume.
> Focus on getting in your volume before increasing intensity.
> Spend the majority of your time at an aerobic intensity even if you have limited time to train.
> Use key workouts to refine race nutrition, pacing, and equipment. 
> Adjust your diet to reflect the needs of your training.
Ultimately all points that we've heard before, and in a way it's nice to see improvement while following relatively basic principles. I hope you enjoyed these reflections and insights to my training. Some reflection, planning, and discipline is all it takes to build yourself to a point where your definition of success is no longer just a possibility, but practically guaranteed.  
Like the article? Please forward to a friend so they can subscribe to our weekly newsletter.
About the Author:
Antonio Gonzalez is the owner of Tri Town Bicycles in Boise, Idaho. He is a endurance coach, bicycle fitter, and veteran of the cycling and triathlon industry for over 20 years.